---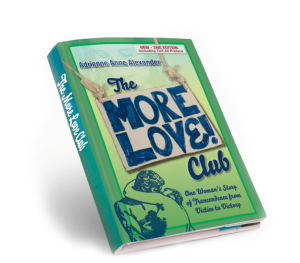 Emma, a sober alcoholic, divorcee, estranged from her three children, lonely and desperate to transcend her abusive childhood and hook a man, attends a meditation meeting. The meditation works out. The man doesn't. Through a series of coincidences, (coinciding events) Emma finds herself outside a house, she'd dreamt about, talking to a man named Jess, (the same name as her dear departed grandfather), wearing a sign that says, 'More Love,' which sets her on a serendipitous, magical and sometimes terrifying, metaphysical trajectory of possibility and the opportunity for love and new life.
The More Love Club, a first work by Adrienne Alexander, is a fictionalized memoir based on true events.
 2ND EDITION INCLUDING THE TELL-ALL PREFACE AVAILABLE NOW!
---
The MLC Self Help Series: Mind Matters: The Fundamentals
When you learn to locate mind as issuing a mind thought, identify triggers and the download of neuro-chemistry that you experience as your life, you can release anything that is holding you back.
To be released Spring 2017
and
The MLC Self Help Series: Life Matters: The Practice
A step by step guide outlining the practical tools to take your life from Victim to Victory.  Radically change you and your life forever.
Release Date TBA
and
The Alexander Method: Transformational Acting for the Total Actor
Integrating Life and Acting Training this hybrid methodology helps you 'drop in and deliver' while maintaining a healthy balance in your artistry and your life.
Release Date TBA