For personal revelation and total transformation.
What if someone offered you the principles of a practice that could totally transform your life?  What if you could transform your relationship with yourself and others?  What if you could release anything that is holding you back and get the life you deserve? 
MLC Transformation
13322 Debby Street
Van Nuys, CA 91401
6:30-8:30pm
(6pm Meditation)
 Class is $30 per class or $100/mth payable at the 1st of the month.  If  you are new to MLC, 

The First Class is donation only.
Adrienne Alexander is a Transformational Teacher with a Masters in Psychology, using the best of psychological and spiritual principles. For privates, classes, meditation, sound healing, life and acting training, email adrienne.anne.alexander@gmail.com, or call 818-989-2220  Clients are reminded of the 24hour cancellation policy.  For more info, to buy the book, t-shirts etc and sign up for the blog www.themoreloveclub.com. 
Contact us at: adrienne.anne.alexander@gmail.com or call 818-989-2220
This class is taught by Adrienne Alexander
The Mission – Adrienne Alexander – Life Coach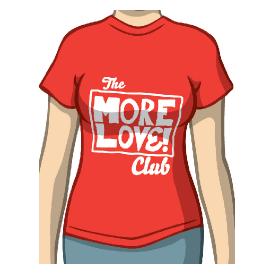 Adrienne Alexander is an Incest Survivor, who, over the years sought out and developed a number of Tools to break free from her Childhood Trauma. The Tools she found invaluable for her ultimate healing are presented in novel form in her first book,"The More Love Club."
"Because of the need for full recovery and a deeply satisfying life experience I began to move beyond the cultural norm of descrying my Victimhood and in my case what others saw as the rightful claim for vengeance, into Forgiveness and Great Joy.  Crazy, given that I had been molested from the time I was 3-months-old until I was in my 30s.  But beyond the meaning that most people would choose to make of my story, I felt there could be, must be, the possibility for acceptance and Total Healing. That is what began to truly Inspire and Interest me."
In her desire not only to Triumph, but Inspire others to do the same, Ms. Alexander began writing about the Skillset For Life, developed over the many years of healing, that she called, 'The Practice of More Love.' The teachings in the daily blog, (http://themoreloveclub.wordpress.com) as well as her first book, 'The More Love Club', eventually blossomed into Weekly Group Sessions.
In this day and age we are seeing hundreds of classes, teachings and practices, all pointing toward Transformation yet no one is actually Transforming! We are learning new vocabulary without shifting the Paradigm of Living, trading one Belief System for another, without looking at the system of belief itself. Instead of Transforming, we are buying into a kind of bait and switch, replacing one set of Mind Thoughts for another set of Mind Thoughts deemed more acceptable. Transformation is the task at hand. True Transformation, in my humble opinion, is the Next Right Thing. As a collective, the Great Creative Life Force on this Planet, it's Time to Transform.
Here at More Love Club, people's lives are Transforming. Using a Specific Set of Tools, a Skillset called, 'The Practice of More Love,' we are seeing Powerful Breakthroughs. People are changing. New Chemistry is Downloading and Lives are Radically Shifting. We are not just affecting other, we are Transforming Lives.

What is a Spiritual, Transformational, and Therapeutic Life Coach?
"I teach the 'The Practice of More Love' which is the Art of Going Beyond the Mind, beyond the fear that mind produces, beyond the lies issued by mind that keep us small, disconnected and afraid to Realize our Dreams. The mind, because it is often fear-based, and therefore a closed system, can disallow us from giving, and receiving Love. Love, in my humble opinion is the Most Important Energetic Resource we have on this planet. It is the ultimate Creator and Healer. If we are to evolve and grow there must be Love, More Love, always, all ways. So in 'The Practice of More Love', I use a number of tools to initiate New Awareness, Greater Freedom, and the Ability to Achieve what formerly seemed impossible."
The 'Practice' locates mind as mind, as issuing a Thought Form, stimulating a Trigger, which downloads a Chemical Reaction, a feeling, an emotion coursing through the system, which creates what we perceive, what we call 'reality'. Mind is always, all ways informing the experience we call 'real life'.   Mind issues Mind Thought, which is a Trigger. Sometimes a Trigger comes from a Belief System or something larger like a Running System but all Mind Thought Triggers a Download of Chemistry, which pours throughout the Cellular Makeup of your Body, producing a reaction, (ie: feeling good, or feeling bad). To realize, (real eyes) that mind is issuing Mind Thought, that mind is separate from you, that it is in fact a device, a mind, which is simply issuing Mind Thought, (not empirical data, or truth, but mind thought), is the beginning of recognizing, re-cognizing that you have a choice. You, yes you, can Choose the Mind Thought, which serves. And only those that serve. You do not, do not, do not, ever again, need to accept a thought that is less than worthy of, or in any way able to produce chemistry that is harmful to you. Not Ever! Watch what mind is issuing, Decide if it is Worthy and if not, Toss it in the Garbage, Shut the Lid, and Step Away from the Trash. When you locate mind, locate Trigger, and actually see the Thought Form, your observing will begin to change the process, you will have the opportunity to Change the Thought Form, Change the Download and therefore Change the Experience you are experiencing as your Life. Just by observing mind, by becoming aware that mind is issuing Mind Thought, which Triggers more Mind Thought and more feeling, by practicing this tool, you are taking the First Steps Toward a New Life.
Using this and the other tools revealed in my book "The More Love Club" and my upcoming book, "The More Love Club Self Help Book: How to Enlighten Your Load," I promise you, your life will be Transformed.

Adrienne Alexander is an Intuitive, Transformational Therapist, with a Masters in Psychology, an experienced Metaphysical Practitioner, working with Addiction, Incest Resolution, Bi-polar, ADD, Borderline, Eating Disorders, Sexual Issues, Relationships (with self and other), ie: Life, implementing Practical and Spiritual Principles. She teaches The Art of Going Beyond the Mind: The Practice of More Love. She teaches 3 classes a Week and is also available for private sessions, via phone, Facetime, Skype, Ichat and in person, schedule her by calling 818-989-2220.  Or contact her: adrienne.anne.alexander@gmail.com  (Clients are reminded of the 24hour cancellation policy.)